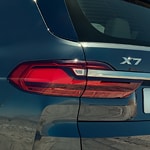 Drivers in Irondale are constantly on the go. That's why we at BMW of Birmingham know that connectivity is non-negotiable. With the BMW X7, you'll be able to stay in touch with the outside world, whether you're commuting or taking a family vacation.
Do you ever need to make phone calls or have text conversations on the road? The BMW X7 helps you communicate safely. It comes with both Android Auto and Apple CarPlay, so you can use voice commands to operate your phone. The system can even read your text messages out loud, so you can keep your eyes trained on the road.
When you're on a tight deadline, every minute counts. With the BMW X7's standard Wi-Fi hotspot, it's a breeze to get work done in any location. Just pull over, connect a laptop to your private network, and submit a report right from the driver's seat.